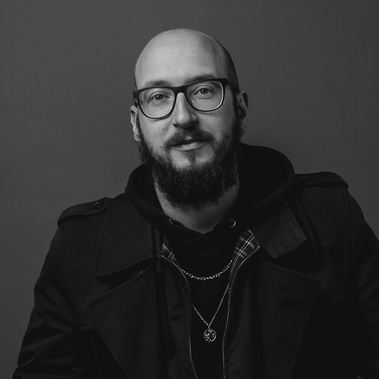 Ryan Falzon is an artist hailing from Malta, born in 1988. His artistic pursuits encompass painting, printmaking, and writing. Falzon delves into the realms of contemporary duality, narrative exploration, social media, human interaction, and existential conditions within his vibrant and expressive works. Over the past few years, he has established a distinctive voice and style in the political art scene of Malta, known for his provocative and playful approach. Employing a collage-like technique, Falzon constructs narratives by arranging disparate images, inviting viewers to embark on visual journeys.

Since 2020, Falzon has been passionately working on his Botanica Series, a collection of internal scapes and still lifes that have garnered widespread acclaim from critics. These artworks, influenced by the COVID-19 pandemic, delve into central themes of domestic settings, personal growth, environmental issues, and a biophilic sentiment. In a post-pandemic scenario, Falzon's latest works exhibit a poetic ambiguity, interweaving elements from everyday life, pop culture, the profane, and urban legends. Through the fusion of imagery, text, and symbols, his pieces create subtle and uncertain narratives, framed by raw emotions and a profound sense of existentialism.

Falzon began his artistic journey by studying Fine Arts at MCAST Art and Design in Malta from 2009 to 2011, under the tutelage of Gilbert Calleja, Katya Borg, and Sinead Rice. He further honed his skills with guidance from Robert Zahra. Falzon holds a Bachelor of Arts (Honours) from MCAST (Malta), earned in conjunction with Fraunhofer Gesellschaft (Germany). Throughout his degree program, he received instruction from professors at the Bauhaus and Mannheim University of Applied Sciences. Since 2009, Falzon has participated in numerous solo and group exhibitions across Malta and Europe, with his works finding their place in both public and private collections in Europe and the USA.

Between 2013 and 2015, Falzon undertook the role of managing the Xarolla Windmill Project, a collective aimed at supporting emerging artists through multidisciplinary works. In May 2014, Falzon's artistic prowess earned him recognition as an artist for the global "Transform Today" project by Absolut Vodka. Michael A. Fenech, a curator and theatre director, has mentored Falzon since 2016. Falzon's body of work from 2016 to 2019, including notable pieces like "Quick Fix: A Morality Tale" (2016), "We Lost the War" (2017), and "Culture is Past Art is Future" (2018), has become a point of reference in the contemporary local political art scene. Falzon holds the position of a Senior and IB Sixth Form art instructor at St. Edward's College in Birgu, Malta.
Currently, Falzon is pursuing a Master of Arts in Fine Arts at the University of Malta, under the guidance of Dr. Gilbert Calleja in the Department of Art and Art History. Since 2011, Falzon has also published several short pieces in various publications, making his mark in local anthologies and actively participating in local literary circles. In 2022, Falzon added the title of published author to his accomplishments with the release of his first novel, Sajf, published by Kotba Calleja. This literary work has been hailed as the voice of the Maltese millennial generation.
Upcoming Exhibitions
June 2022, Ostrale Biennale, Dresden, Germany
Solo Exhibitions
February 2022, Friends with Plants,Il-Kamra ta' Fuq, Mqabba, Malta
December 2020, Botanika, Studio 87,Valletta, Malta
September 2020, Fritz ist Amerikanisch,OKK Raum 29, Berlin, Germany
May 2018, We can't be Lovers, Iniala 5,Valletta, Malta
January 2018, Culture is Past Art is Future, Iniala 5, Valletta, Malta
January 2017, We LOST THE WAR, Spazju Kreattiv, Valletta, Malta
January 2016, Quick Fix ; A Morality Tale, Heritage Malta, Valletta, Malta
September 2014, Ex Voto, Maritime Museum, Birgu, Malta
Collective Exhibitions (Selected)

May 2023, SOLASTALGIA, Studio Solipsis, Rabat, Malta
March 2023, Rituals of Passage, Valletta Contemporary, Valletta, Malta
April 2022, Identity of an Island, Teatru Astra, Victoria, Gozo
September 2021, Ħars fuq Ħars, Valletta Contemporary, Valletta, Malta
March 2021, Spring Awakening, London Paint Club (online)
May 2020, WATERGATE- "From water to land, from land to water", organized in collaboration between Ostrale Dresden and Rijeka 2020 - European Capital of Culture (online)
February 2020, Up to Now, Valletta Contemporary, Valletta, Malta
July 2019, Ostrale Biennale, Dresden, Germany
November 2019, Mini Print, Heike ArndtGallery, Berlin, Germany
August 2019, Ostrale Biennale, Dresden, Germany
April 2019, Smudge, Studio 87, Valletta, Malta
November 2018, The Island Within, Ekeren Cultureel Centrum, Antwerp, Belgium
October 2018, in between, Biffi Gallery, Piacenza, Italy
June 2018, here & now, Valletta Contemporary, Valletta, Malta
February 2018, The Snake Show, Valletta, Malta
December 2017, Pre Opening, Valletta Contemporary, Valletta, Malta
November 2017, Mini Print , Heike Arndt Gallery, Berlin
June 2015, Printcycle, Wignacourt Museum, Rabat, Malta
January 2015, A Junction, Xarolla Windmill, Zurrieq, Malta
November 2014, Divergent Thinkers in Brussels, Dar Malta, Brussels
May 2014, Assimilated Spaces, Xarolla Windmill, Zurrieq, Malta
November 2013, Xifer, Collective, Teatru Salezjan, Sliema, Malta
October 2013: Divergent Thinkers, Collective, St. James Cavalier, Valletta, Malta
October 2013: MalteseLandscapes, Collective, Auberge D' Italie, Valletta, Malta